GIMP – The GNU Image Manipulation Program
GIMP – The GNU Image Manipulation Program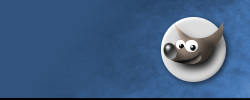 Another post to file under "freeware rules", or in this case, open source rules. Sorry, RUL3Z. Wouldn't want to offend any l33t3rs out there ya bunch of crazy character typing geeks.
In the last week I've done everything short of completely abandon Microsoft. I'd love a Mac, but they're just too damned expensive. I'd also like to make the full jump to a Linux distro but due to work hardware that's not going to happen. So I did the next best thing: Little by little I've switched to open source software.
I've been preaching the benefits of FireFox via this page since I started it, but this week I ditched Outlook and moved to Thunderbird. Yesterday I replaced Photoshop with The Gimp, a free open source photo/image editing program. It even handles PSD files!
The Gimp starts up much faster than Photoshop and personally I think its tool bar layout is more efficient too. So if you're looking for the best in free photo software I don't think you need to look any further.

Gimp Download – Unix/Linux